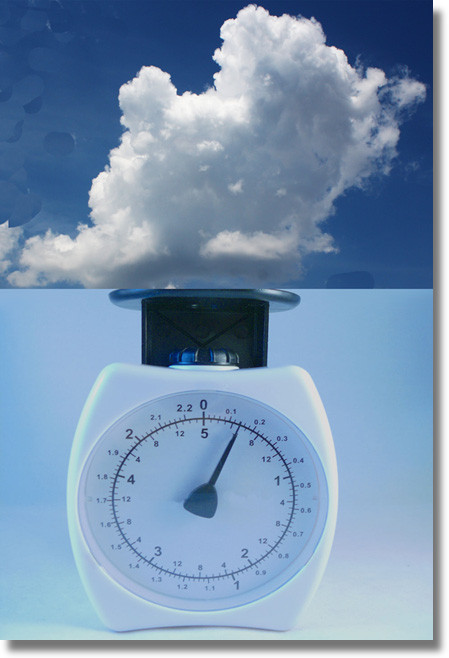 We've all seen puffy cumulus clouds marching across the sky like a herd of elephants, perhaps changing shape into mythical creatures.
But did you ever stop to wonder—how much do those clouds weigh? I'll give you a hint: it has to do with the elephants.
Cumulus clouds form when warm updrafts carry water vapor into the sky, until it begins to condense into water droplets.
These are so small that the updraft can overcome their gravity and keep them aloft.
The process of condensation produces more heat, which perpetuates the updraft and keeps the water vapor rising and condensing, to eventually become the white clouds we see from Earth.
These typically form thousands of meters up. Since they're so far away, they may not look huge to us. But they can often be over a cubic kilometer in size.
Scientists multiplied that size by the average density of a cumulus cloud—about 5 grams per cubic centimeter—to calculate that a typical cloud weighs 500 million grams...or 1.1 million pounds!
That's equivalent to 100 average-sized elephants, and more than our largest airplanes.
Why, then, does a cloud not fall from the sky?
Unlike elephants and airplanes, clouds are very low density because water molecules weigh less than the oxygen and nitrogen making up the dry air surrounding them—which means the cloud can stay aloft until the water vapor dissipates and the cloud fades away.
Background
Synopsis: One of the delights of fair blue skies are the puffy cumulus clouds that stir our imaginations as they evolve from shape to shape while floating overhead like helium balloons. But these cumulus clouds are made of water vapor, so they have weight—a lot of it! Why don't they fall out of the sky?
Contributors
Juli Hennings
Harry Lynch